This four-day full immersion experience has been created as a vortex to allow you the space, support, tools and alchemy you need to elevate and expand into the next level of yourself - your most ICONIC self.
I'm talking full-blown MAGIC, y'all.
It's a sacred gathering for 7 women, involving a shit-ton of glitter and FUN at a mystery medieval chateau in the South of France!
You Are So Ready. It Is Your Time, ICON…

You've always known in your guts and in your ticker that you're unlike anyone else.
You've had a magic inside of you - a "knowing" - that you have tucked away.


And now, you're ready to unleash the shit out of it and ALL of your potential!
Instead of dimming yourself down, editing, censoring, folding all your WOW to make others feel comfortable
and give them space to shine, you're ready to not only embrace all of your power and magnetism, but activate it
full-blast to finally occupy all the energetic space that is yours by Divine Right.

And your charisma has always been through the roof...but you never allowed yourself to let it fully out.
Enough is enough though.
That charisma is part of you and your magical makeup and you're done caring who it blinds or bothers.
You're the woman who is meant to command any room.

You're the woman who turns heads and exudes that je ne sais quoi;
the one who attracts what she desires and creates out of thin air.

You were meant to take center stage and be in the spotlight…whatever that looks like for you.
This experience is only happening once per year!
For 4 solid days, you and 6 other women
will re-calibrate to iconic together

But the glittering partay begins
before you land in France…

You'll have access to some pre-work to be totally ready for our time together in france!

You'll receive:
—> Access to weekly video trainings and playbooks to help you discover your Style.Essence (more on what that is and means later!)
—> A 1:1 laser coaching call with Eyenie
—> A Facebook group with your ICONIC sisters where I'll do lives and trainings as well as Q&A to prep you for going through the ICONIC portal!
All of this to build glorious momentum so you can get the most out of our luxurious experience together!!!
Highlights and Benefits Of Your time in France
at a glance
October 3 - 8th
Once you land in France, you'll go through magical portal... and come out ICONIC
Part 1//
Discovery +
Initiation
This is the preparation phase where we get to know your most ICONIC Self, which of the 5 elements represent and express your Style.Essence (Air, Water, Fire, Earth, Space).

Sacred ceremony, rituals and activations like you've never experienced before.
You'll be ready to receive true transformation at a cellular level and
ease the transition to your ICONIC self.
All in a safe, encouraging and mega enthusiastic container.
Part 2//
Play +
Exploration
Will we be playing dress-up? You bet your bippy. Will there be DREAM shopping, dancing and silliness? Affirmative.
Top that off with some runway show
and scavenger hunt action, and you'll
be ready to SHOW UP in NEON and express your ICONIC essence in
your photos!
Live the magic of surrendering to FUN
and watch what flows on in!

Time to really get a taste for what it's like to move through your world as an ICON!
Part 3//
Becoming +
ICONIC Expression
Show up to our top secret destination and jump into the magic.
Deeelicious food, wine, ease and grace during each phase to pair perfectly
with dreamy surroundings and being pampered by a technicolor team of experts.

Yes, that means professional hair + makeup, a styled and art directed photo-shoot and photos that will propel your brand to the ICONICsphere!
Ziiiing!
"I am more centered and living my own life...


Wow, to be able to be in a group of girls from all over the world and yet be so alike. It felt comfy and joyful from the first moment we met and for me it felt like it could last forever. Let's create more sisterhood in the world, thanks Eyenie for showing us how to do that!

The shopping day was one of the best days of my life!! Yayyyy!!! Always have known that this is the way it is supposed to be. Shopping with sisters in total flow and alignment. Joy and laughter.

I would definitely recommend this experience to every woman because you give yourself a beautiful present which remains for a lifetime. It enables you to Live your Iconic Power. It is a token of self love and that is the source of spreading your light in the world. "

//ICON Elle, Netherlands

Image from ICONIC photo-shoot at mystery chateau.

(Photo: Pattie Fellowes; Styling: Eyenie;
Makeup: Marjorie Delfau; Hair: Elodie Puech)
location | An undisclosed chateau in the south of france
You will receive detailed information including the city the chateau is located, best airports to fly into, transportation information, etc. as soon as you have completed Phase III. Why? Because a sacred experience calls for a sacred location, m'lady.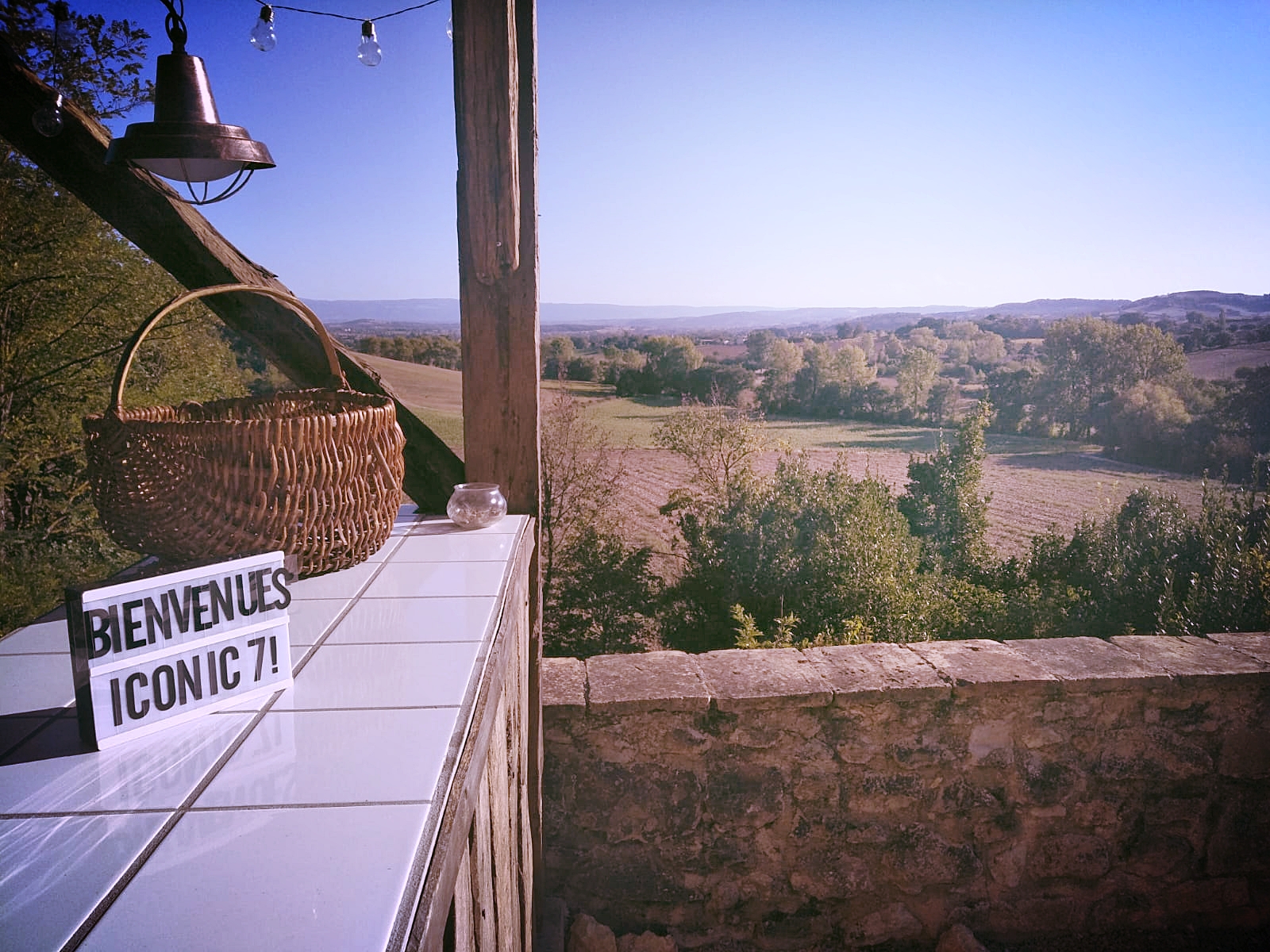 Other deets | what to bring, schedule & other questions
Everything you need to make this a smooth and graceful voyage will be provided to you as soon as you're 1000000% IN and have completed Phase III. This includes an itinerary, packing list and other top secret information for the ICONIC 7's peepers only.
"Discovering my Style.Essence in the bigness of France & the medieval magic allows me to feel into my own confidence and continue to grow and take off the old limiters as they come up in daily life…
This experience allowed me to step into the person I've always dreamed myself to be: A big, powerful lighthouse of a woman who is isn't afraid to step up and shine with all of her might.

Tuning into my unique Style.Essence and learning how to emit that through the clothes I choose to wear on a daily basis is like tapping into my superhero powers and showing people my true colors.
I already loved Eyenie before we met online, but meeting her and working with her in person made me burst into a cloud of confetti and stars :)

The women I met will stay in my heart forever and I see them as lifelong friends now. We will be a support system for each other as we keep climbing higher and deeper into the magnificence of who we are, and radiate each other's light back to one another. "
//ICON Amy, USA

Image from ICONIC photo-shoot at mystery chateau

(Photo: Pattie Fellowes; Styling: Eyenie; Makeup: Marjorie Delfau; Hair: Elodie Puech)
Here's a break-down of what you'll receive during our time together...
Event Pre-Work before heading off to France to make sure you're poised and ready for action!

5 nights + 4 full days in a medieval chateau in the South of France with a group of fellow ICONIC badass women

Access to private chateau grounds + pool (weather permitting)

All high-vibe, locally-sourced meals included during our time together

Top secret sacred ceremony and ritual

Magical Excursions

Art Direction, Styling and Energy + Mindset support by Eyenie the entire time

Professional hair + makeup for your photo-shoot - psst, champagne may be involved, *wink*

An ICONIC photo-shoot with a next-level photographer, who gets your energy and mission and sees YOU + 10 retouched photos to use as you wish

Magical gifts + curated surprises for each ICON

And more…!!!
I wanted to bring forward my inner beauty…to feel, walk and be the iconic light I know I am. But mostly I wanted to embrace ALL OF ME and love the parts of me I didn't want people to see.

"I did not think it would be such a deep, deep process for me. It was not my wardrobe, attire, shoes, or makeup, which are amazing bonuses and takeaways. For me, it was at a moment of surrendering which I was able to learn to just fully trust in spirit. In the fear of releasing control, I also experienced the fear of truly fully loving myself. That intimacy of recognizing the aspects of myself, that I even hide from myself. You tell yourself you love yourself, but you know the difference when you finally see yourself. I learned that I deserved love from the most important person, myself.
Thank you Eyenie, for bringing all these incredible women together. We all just perfectly aligned to teach one another, and you the master orchestrator.
I did like that everyone was from all around the world. We are all very diverse with a unique culture and style.
I would recommend this for the women who are ready to embrace change and welcome it in with open arms and most importantly open heart. Have to have an open heart to embrace the change in whichever form, shape, color or fabric it may present itself to you.
Eyenie is dynamite! Profound, uplifting, relatable, inspirational and her energy is contagious and raises your vibration. She really is completely, relatable and I felt comfortable being vulnerable with her.
Being ICONIC to me means truly loving, respecting and honoring yourself. Being in alignment with your core beliefs and projecting this outwards. My light, energy, and vibration is my iconic essence, the dress and shoes are my accessories."

//ICON Stephanie, USA

Image from ICONIC photo-shoot at mystery chateau

(Photo: Pattie Fellowes; Styling: Eyenie; Makeup: Marjorie Delfau; Hair: Elodie Puech)
Because this is all about surrendering and trusting (yourself, the Universe, your fellow ICONs...), this experience doesn't work how others do. You're a trend-setter and taste-maker... you are blazing trails and creating an empire the likes of which have never been seen.
So, we're not adhering to how things are done in *this* 3D reality. Ain't no ICON got time for that.
That said, I will not be dazzling you with money shots of the (mega) stunning eye-candy of a chateau where we'll be staying. I will not be laying out a detailed itinerary for your consideration. I will not be giving you a play-by-play for your logical mind to be soothed. Cuz we're going QUANTUM, ICON!
My mission is to create a circle of the Sacred ICONIC 7. In order to be considered, you must first trust, and then request access.

Why? Because this is about creating alchemy, synergy and transformation at a cellular level, from the inside-out.
Can you dig, ICON?
If you have made it this far and your inner iCON is exclaiming, "hellz yeah, Let's DO This!", then congratulations! you have completed Phase i
FREQUENTLY ASKED QUESTIONS
Do I need to prepare before going to France? How can I make the most out of the experience?

You'll be receiving 4 months of 1:1 and group coaching, energy work, style consulting along with your other ICONIC 7 sisters! You'll also have a super secret Facebook group where I'll be doing videos and answering questions regarding the logistics of the event. All you need to do is follow the program and complete the pre-work and you'll be more than prepared to get your ICON on!

What kind of women attend this event?

This event is for the unconventional and out-of-the-box woman who is building an empire on her terms! High-vibe, connected, creative, heart-centered badasses who loves to have fun, enjoy life and invest in herself and her personal growth! If you adore clothes, playing dress-up and personal style, and understand that how you dress and show up is VITAL to taking your craft and business to the next level, then this is for you! The women who have participated and are attracted to this experience also love to travel, try new things, have done a lot of mindset and personal development work on themselves, and they practice some form of spirituality and metaphysics or are open to it and curious. Let's face it, they're also super silly, witty, cheeky, hilarious and FUN!

Because of the intimate and unique nature of this experience, there is an application process to be sure that every woman who is selected is an ideal energetic match for the sacred circle of 7!

What is included in the price of the event?

There is a detailed list of everything that's included in the price you pay in the "What's Included" section above. This is also discussed in detail during our post-application chat, and is listed in the agreement you'll receive once you know you're IN!

When is it best to buy tickets to France and where do I fly into?

Like with any other trip, it's best to start searching for flights that meet your needs as early as possible. All travel details will be provided in a welcome packet once you've been accepted into the program and secured your spot.

How do I know what to pack?

What to pack will be covered in the welcome packet provided to you once you've been accepted into the program and have secured your spot. Also, there will be a Be The ICON Facebook group where you can ask questions at any time.

Do I need a travel Visa for France?

This depends on the country you'll be traveling from and how long you're staying in Europe. It's best to check with your local French Embassy.

What type of shopping budget will I need for the shopping day?

This varies from person to person, but has ranged anywhere from 200 - 2,500 euros. We go to a variety of shops with different price points, and are always Divinely guided to pieces that are perfect for each participant.

Can I use my credit or debit card in France? Or do I need to bring cash?

Most major credit cards are accepted here. I would recommend checking with your bank to see what options are available to you. You can also withdraw money easily at local ATMs, but it's best to make sure your bank knows prior to traveling so they don't block your card.

How do I know if I've been accepted into the program?

You will receive an email notification with an invitation to speak with Eyenie. If it's a HELL YEAH for both of you after the call, you'll receive an agreement and payment link to secure your spot.

For any other questions not covered here, you can email eyenie@technicolorpriestess.com
Eyenie Schultz, aka, Technicolor Priestess, is a an ICONIC Image Consultant + Style Alchemist who helps avant-garde badass women to express their essence fully, from the inside-out, so they can finally show up as the ICONIC Visionaries they are! All to OWN the fame + acclaim they now they're meant for!
After years of hiding in the shadows and censoring herself, she was able to use self-expression + exploring personal style to heal, and finally achieve unconditional self-love and visibility. YAY!

She believes that dressing with intention is sacred and that when how we dress is elevated, it helps raise consciousness, creating real magic + alchemy in all areas of our lives. Let's get quantum!